Deep in Cream Mega Pack
8 Movies [53 scenes] | 9.4 GB
8 Movies: Deep in Cream
Genre: Gonzo, Interracial, Double Penetration, Anal, Cream Pie
Studio: DVSX
Period 2003 – 2006
Episodes included in this pack: 1-8
Deep in Cream # 1 [7 scenes]

Cast: Cindy Crawford, Lisa, Noname Jane (as Violet Blue), Rady, Faith Adams, Nikita
Description: Deep In Cream!!! – These girls won't be satisfied until you blow your load deep inside them. What a way to top off a hot romp in the sack! Warm cream pie … nothing could be sweeter! Starring Cindy Crawford, Nikita, Faith Adams, Rady, Violet Blue and Lisa!!!
Deep in Cream # 2: Fire in the Hole [7 scenes]

Cast: Sabina Black, Delilah Stone, Rita Nemeth (as Rietha), Alex Divine (as Alex), Carol, Nicole, Venus
Description: Fire in the hole! These babes just wanna fuck non-stop, to the last drop, until they're filled and oozing with your white hot pop. They aren't disappointed either, as you'll witness as they are shot so full of creamy cum it's dripping out from every hole! Hope you like Cream Pie, cus it's for dinner and dessert!
Deep in Cream # 3: Deposit Required [8 scenes]

Cast: Olivia O'Lovely, Carrie Cruise, Suzie Carina, Loni, Jessica Fiorentino, Katrina, Janet Alfano
Description: Hey buddy, you're not going anywhere until I get your creamy load deep inside me. So let me just suck you and fuck you long and hard until you explode in my pussy. I'm not gonna stop pleasuring that hot, hard, juicy cock of yours till you shoot your hot cream inside me…any hole will do, take your pick, just shoot in it already!
Deep in Cream # 4: Gushers! [7 scenes]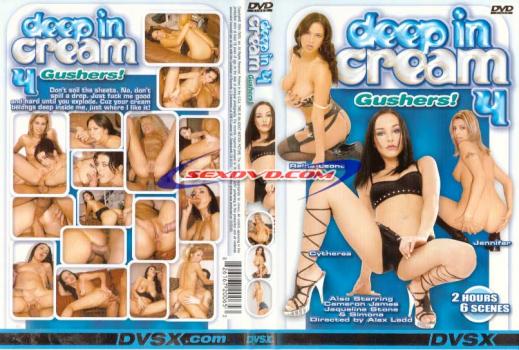 Cast: Claudia Adams, Cameron James, Jennifer, Simone De Marco, Reina Leone, Jacqueline Stone, Cytherea
Description: Deep In Cream 4 – Gushers! – "Don't soil the sheets! No, don't spill a drop. Just fuck me good and hard until you explode. Cuz your cream belongs deep inside me, just where I like it!" In this particular movie, we get to see lots of inside ejaculation with hardcore fucks such as ATM and double penetration!
Deep in Cream # 5: Cum On In [7 scenes]

Cast: Selena Silver, Corina Taylor, Poppy Morgan, Jordan Styles, Juliana Kincaid (as Audrey Leigh), Brittney Skye, Britney Madison
Description: These eight horny girls are just begging the guys to cum on in … inside their pussies and asses, that is. They want to be fucked good and hard till they get a hot load of cream deep inside them. Two hours and six separate scenes starring Selena Silver, Poppy Morgan, Britney Madison, Corina Taylor, Jordan Styles and Audrey Leigh. So cum on in and help yourself to some cream pie!
Deep in Cream # 6: Cockonut Cream Pies [6 scenes]

Cast: Tiffany Taylor (as Heather Hunt), Simone Peach (as Jessica), Ginger Devil, Vanessa, Patricia, Veronica Da Souza (as Veronika), Harmony Rose, Claudia Rossi
Description: Don't just get in…get in deep! These eight hotties are hungry for some cockonut cream pies. They can't wait till you fuck them long and hard. Give up your load of creamy goodness deep inside them for the grand finale. Nothing is more satisfying than a cream filling.
Deep in Cream # 7: Cockonut Cream Pies [6 scenes]

Cast: Harmony Rose, Destiny Deville, Lyla Lei, Denice K. (as Denise K.), Austin Kincaid, Kelly Kline
Description: There is nothing sweeter than a hot, wet pussy smothered in man cream! Deep inside these sugar walls, you will find cock-cum surprise spewed inside every one. Filling these holes to full-blown capacity with the creamy goodness is what these vixens crave from their high protein diet of "the yummy good stuff!"
Deep in Cream # 8: Cockonut Cream Pies [6 scenes]

Cast: Veronica Jett, Felony, Kristi Klenot (as Klenot), Rachel Evans (as Rachel), Suzan Wenera (as Roses), Nikki Sun
Description: No need to pull out this time, she's ready for something a little more internal and nothing will leave her more satisfied than to fill her to the rim with a special cum surprise. Watch as these six sex kittens take their turn begging for a creamy protein injection. Packed is three-way, tight anal action, and cum slurping whores – this is definitely a must see!

Advertisement: