Creamed Mega Pack
3 Movies [18 scenes] | 3.2 GB
3 Movies: Creamed
Genre: All sex, Double Penetration, Anal, Cream Pie
Studio: Python Pictures
Period 2003 – 2005
Episodes included in this pack: 1-3
Creamed # 1 [6 scenes]

Cast: Alaura Eden (as Allura Eden), Fallon Sommers, Kylie Rachel (as Kylie Rachelle), Cherry Lane, Cytherea
Description: Creamed, get on top. Python Pictures presents its first all internal cum shots production. We invited back to our set our best all American creamed stars. Allura Eden is doing what she does best, ass to mouth. Cytherea is a squirting little vixen. She drenches the entire cast with her squirting cum. Cherry Lane, after all she was broken in, doing her first cream pie scene. Fallon gets a bath of hot cum on her face and a cream pie. Enjoy!
Creamed # 2 [6 scenes]

Cast: Giselle Collins, Reese, Lyric, Laurel Berry, Cytherea
Description: Python Pictures brings you the second installment of Creamed Vol. 2, serving up five slices of Hot Cream Pie! With extra non-dairy whipped topping! Watch Laurel eat a cum glazed donut while Cytherea won't let her man cum in her pussy until she gives him a sound squirting. Lyric is lead in on a leash as she gives in to her animal instinct. Then onto Reese who can't wait for her mate to show up. And when he returns, watch out! And finally Gisselle tosses Benjamin's salad before she lets him cum in her ass. So grab a fork and dig in.
Creamed # 3 [6 scenes]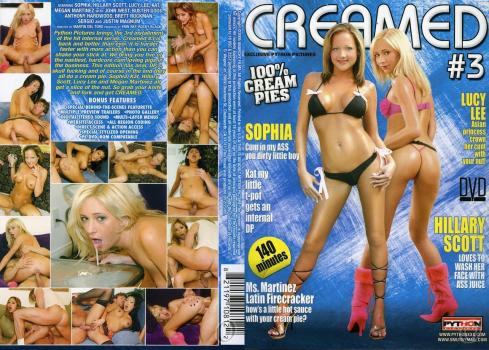 Cast: Kat, Sophia, Lucy Lee, Megan Martinez, Hillary Scott
Description: 100% Cream Pies! Python Pictures brings the third installment of the hit internal series. Creamed #3 is back and better than ever, it is harder, faster with more action than you can shake your stick at. We bring you five of the nastiest, hardcore cum-loving pigs in the business. This edition has anal, double penetrations, skull fucking and, of course, in the end they all do a cream pie! So grab your knife and fork and get Creamed.

Advertisement: